"Cofim Verona" is a Real Estate services company, belonging to the Group Cofim based and with four main offices in Milan (Brera, Italy) and hinterland (S. Felice, S. Bovio and Peschiera Borromeo).
Our bedrock are high quality of service and professionality towards our customers. We achieved these two special qualities by listening to our customers, in order to meet their specific demands.
Furthermore, we ensure a high service quality standard and Real Estate brokerages by making use of modern marketing strategies, an excellent positioning on the Internet (such as websites, social media and corporate portals) and moreover belonging to an international Real Estate. Also, we give importance to the constant update of our staff.
Our staff speaks correctly English, French and Spanish..
OUR GOAL IS TO SATISFY OUR CUSTOMERS!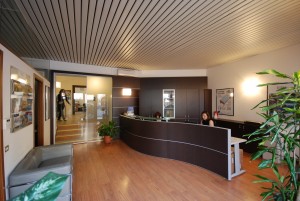 "Cofim Verona S.A.S." Real Estate company, based in Verona (Italy) was founded in 1993 by Acct. Argentieri Marco and Engr. Rizzo Gianfranco, by now the owner and president of "Cofim Realty Group Ltd." based in Milan.
Thanks to the strategy of continuous attention offered by the International Real Estate Market, in order to offer more amplified services to customers, "Cofim Verona" has entered in International circuit of "Sotheby's International Realty" luxury real estate division of the famous auction house.
In year 2005 has become a founding member of the International Network EREN – "European Real Estate Network Ltd." – (www.europeanrealestate.org) an exclusive club of top agencies in the market of prestigious and luxurious real estates.
In 2007 joins the Leading Real Estate Companies of the World - LUXURY PORTFOLIO - the largest network of independent estate agents in the world, which allows the group to report Cofim with reliable colleagues and share experiences, customers taking advantage of the best opportunities in European real estate markets and around the world.
The major banks with which "Cofim Verona" collaborates and also maintains strong relationships in order to facilitate its customers in the request for loans is: "Banca Popolare di Milano – Banco Popolare"
Cofim enumerates among its clients important references such as:
3M
Air France
Alitalia
American Express
Arab Banking Corporation
Arca vita
Arnoldo Mondadori Editore
Asahi Chemical
Australian Airlines
Banca Intesa Sanpaolo
Banca Nazionale del Lavoro
Banca Popolare di Milano
Banco Popolare
Barclays Group Italia
Bauli Spa
BMW
Boundelle
British Airways
British Pertoleum Developpement
Canale 5
Canon Italia
Cargo
Cassa di risparmio di Asti
Consolato d'America
Consolato del Brasile
Consolato di Colombia
Consolato di Finlandia
Consolato di Francia
Consolato di Germania
Consolato d'Inghilterra
Consolato del Messico
Consolato di Norvegia
Control Data Italia
Cotonificio Olcese
Credito Artigiano
Deutsche Bank
Ducato
Enel
Esselunga
Ferriera Valsider
Fininvest
Forbo Italia
Fujitsu Siemens Computer
General Electric
Glaxo Smithkline




Gruppo Editoriale Fabbri
Hiross Italia
IBM
Ifitalia
Ingersoll Rand Italia
Johnson & Johnson
Jolly Club
Kellog's Italia
Lee Italia
Lloyd's Bank International
Lufthansa
Mae International Travel
Manuli
Marcucci /Darty
Marelli
Metro
Microsoft
Nabisco
Nazareno Gabrielli
Nestlé italiana
Nippondenso
Nokia Telecommunications
Odeon TV
Olivetti
Olympic Airways
Over meccanica
Paribas
Pierrel
Pioneer
Prime Computer
RCS
Rete 4
Rinascente
Saima
Saipem
Samsonite
Scottish & Newcastle Italia
Seibu
Serenissima Costruzioni
Simmenthal
Sio
Snam Progetti
Telecom Italia
Unicredit
Volkswagen Group Italia
OUR HEADQUARTERS
SAFETY TO SELL, LEISURE TO BUY
REAL ESTATE SERVICES CENTER
VERONA

Stradone Porta Palio 16/a - 37122 Verona
Tel: 045 8001199
Fax: 045 8002696
Email: info@cofimimmobiliare.it
web:
www.cofimimmobiliare.it
---
Via Brescia 8 - 25019

Sirmione (Bs)
REAL ESTATE SERVICES CENTER
SIRMIONE

Via Brescia 8 - 25019 Sirmione (Bs)
Tel: 030 3377972

Email: info@cofimimmobiliaregarda.it
web: www.cofimimmobiliaregarda.it

Orario
Feriali: Mattino 10:00 - 13:00 | Pomeriggio 14:00 - 19:00

---
---
REAL ESTATE SERVICES CENTER
MILANO SAN FELICE
Centro Comerciale San Felice 27 - 20090 Segreto (Mi)
Tel: 02 7534043
Fax: 02 7532120
Email: sanfelice@cofim-immobiliare.it

Orario Agenzia
Feriali: Mattino 09:00 - 13:00 | Pomeriggio 15:00 - 19:30
Sabato solo Mattino 09:00 - 12:30
---
REAL ESTATE SERVICES CENTER
SAN BOVIO

Viale Abruzzi 1 - 20068 Peschiera B. (Mi)
Tel: 02 70309095
Fax: 02 70309266
Email: sanbovio@cofim-immobiliare.it
---
REAL ESTATE SERVICES CENTER
PESCHIERA BORROMEO

Via Ca' Matta, 2 - 20068 Peschiera B. (Mi)
Tel: 02 55305452
---
REAL ESTATE SERVICES CENTER
NEW YORK

Halstead Property - 770 Lexington Avenue - NY 10021
Tel. 12123816521
www.halstead.com
---